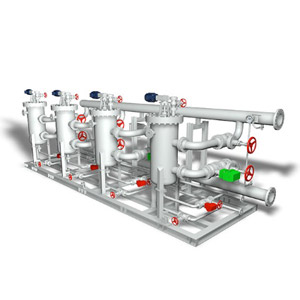 A key feature of this technology is the presence of a rotating shaft inside the filtering element, which drastically decreases the consumption of wash oil during the automatic backwash phase.
The filtering element is placed into a filter vessel with a very simple construction and assembly that reduces plot area requirements. The mechanical strength of the wire mesh is achieved by inserting it within two "pleated" screens which are inserted into a strong cartridge.
The shaft also ensures a very high backwash efficiency and allows the filtration phase to continue while the backwash phase takes place.

ACR Filter provides a reliable and efficient filtration of:
Vacuum residuum (VRDS)
Atmospheric residuum (ARDS)
Slurry Oil (SO)
Cycle Oil (CO)
Coker Gas Oils (CGO) and Heavy Coker Gas Oils (HCGO)
Vacuum Gas Oils (VGO)
Heavy Vacuum Gas Oils (HVGO)
Atmospheric Gas Oil (AGO),
Diesel
Naphtha
Amines