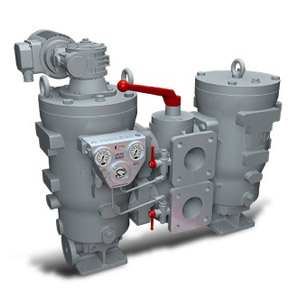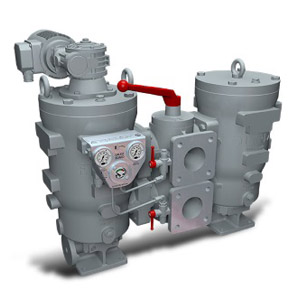 The DACT filters are automatic backwashing filters driven by an electric motor with cleaning "on condition" by pressure drop or timer. DACT/DACXT filters protect the Diesel engine injection pumps, exhaust valves and piston rings better than any other equipment.
DACT and DACXT filters may be installed either on the cold "Supply" side or on the hot "Booster" side, since they don't use external backwashing fluids and the filtering element is made of stainless steel.
No competition:
No other filter on the market can match or even come close to the performances of DACT and DACXT for reliability, life span, easiness in operation and maintenance. Since 1982 thousands of DACT and DACXT filters have been installed worldwide.
No necessities:
No external medium for cleaning (like compressed air). No recurring cleaning of the filtering element, and of course no special cleaning tools or liquids. No maintenance whatsoever.
No weakness:
The filter operates continuously, with an accurate filtration degree (from 10 μm absolute).
The filtering element is a stainless steel armoured unit capable of withstanding up to 10 bar (145 psi) differential pressure. The body is manufactured from EN-GJS400-15 cast-iron under a strict quality system, and has been approved by all major Classification Societies and Navies.
No pollution:
Since it does not use compressed air for backwash, DACT and DACXT do not produce algaes or muds and do not pollute the oil with condensate or additives precipitations. No used cartridges to dispose of.
No fuel waste:
An extraordinary feature of DACT and DACXT filters is that they use a very small amount of backwash fluid, a lot smaller than the filter volume, resulting in a huge saving during operation. See below how this unique feature of DACT and DACXT works.